Wet bags. That's a term that didn't enter my vocabulary until I started cloth diapering. But I wish I could tell everyone how wonderful wet bags are! If you have one, you know how fantastic they are. Their purpose goes far beyond the cloth diapering world.
If you don't know what a wet bag is. Its intended purpose is to hold dirty diapers. But that's only the beginning. You don't need to use cloth diapers to understand diaper blowouts. Where do you put those dirty clothes when you're out and about? In a wet bag! Need a better organizational system for you diaper bag/gym bag/purse? Wet bags! Going to the pool with the family? Take a wet bag along to throw in all of the wet towels and bathing suits.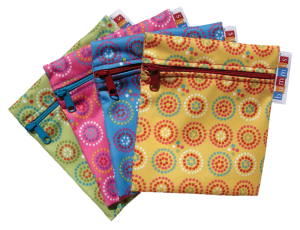 It doesn't stop there. You can use wet bags for:
snacks
cords
make-up
travelling toiletries
organizing the car
laundry
quick grab bag with diapers, wipes etc. for a quick trip up town
toys
sweaty workout gear
wrapping paper/ gift bag
That's just the tip of the ice berg. I bet if you google what people use their wet bags for you could come up with a list of 100 things! If you're wondering if wet bags are worth the purchase, let me tell you that I have three and I am considering adding to that. Want to give someone a baby gift they don't already have? Surprise them with a wet bag. Their usefulness outlasts the diapering stage. Believe me- they are worth it!