Why do baby's grow so quickly?? Baby B is 8 weeks old and has been out of newborn diapers for over a month! Now that we've tested a few newborn diapers, I thought I would give you my thoughts on the ones B wore. I chose to use mostly all-in-ones (AIOs) since getting use to a newborn is a lot already and this is an easy system to use.
A side note before I start. These opinions are not sponsored, they are products that I've tried and I want to share my opinion with you. Another thing to remember is that sizes are approximate and the fit depends on the build of your baby.
bumGenius Littles
Let me start by saying I used the old style Littles. (The new version wasn't out yet, but I would love to hear from you if you've tried them.) These are an AIO style diaper with hook & loop closure that fit from 6-12lbs. The core is made of microfibre with a stay-dry lining on top to wick away moisture from the skin. I was drawn to these in the beginning because of the great designs and colours that are available. When I started using them I found them to be much trimmer than other some other newborn options, and the hook & loop closure is great for quick adjustments. B is a heavy wetter, and I found I needed to change these a little more often. The Littles were simple to use, super cute, and comparable in price to other newborn AIOs.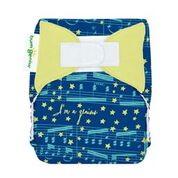 AMP Small AIO- Hook & Loop
I was excited to try AMP diapers. These aren't advertised as a newborn diaper, but the small fits from 6-14lbs. That's a great size range for starting right when baby is born and being able to use them for a few months afterwards. They use 4 layers of micro fibre topped with fleece. The AMP AIO is bulkier than the other newborn diapers I tried. Like the bumGenius Littles, the hook & loop closure allowed for a quick fit. I found I needed to change these more often as well because of B's heavy wetting. These are simple to use and come in lots of bright colours. I wouldn't mind having more of these on hand if there's ever another baby in our house. Bonus: if you really like them they come in two more larger sizes accommodating babies up to 38lbs.

GroVia AIO Newborn
This was my first experience with GroVia. I had always admired their diapers, but had never purchased any. This AIO diaper is made of a hemp/cotton blend and topped with stay-dry polyester micro-fleece. It is meant to fit from 5-12lbs and has rise snaps so you can adjust the fit for your baby. I loved the sewn in booster which gives this diaper added absorbency- which was great for B! The GroVia newborn diaper has snap closure which isn't as convenient as hook & loop, but is definitely not a deal breaker in my books.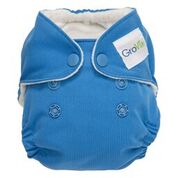 Funky Fluff Newborn
This was my favourite diaper. It's lining and inserts are made from a bamboo/terry material and were by far the most absorbent. Like Funky Fluff's larger LUX diapers, the newborn diaper can be used as a pocket, all-in-two (AI2), or an AIO. Which is super cool if you're not sure what kind of diaper system you want to use, you can try them all out. It has a snap down to accommodate the umbilical cord. And it comes with two inserts which was fantastic with a heavy wetter. Like the Grovia it also has snaps to adjust the rise. I'm excited to try the larger version of Funky Fluff's LUX diapers on B since I'm still trying to figure out the best absorbency for him.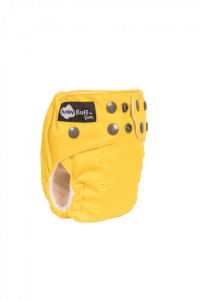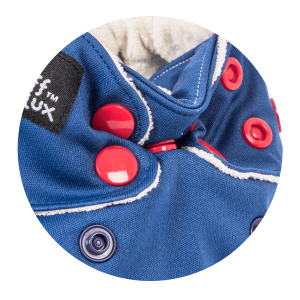 Prefolds/Flats
I didn't actually invest in any newborn refolds, and the flats I used were old receiving blankets cut up. I used Bummis Super Brite newborn wraps, folded the flat into a pad fold, and laid it in the cover. B was bigger than I expected (and had no trouble gaining weight), so the Bummis wraps didn't work for long but they were great while they did. Since they're made for 4-9lbs and have no snaps for adjusting rise they aren't bulky. I love a good bulky diaper bum, but it's not always convenient when your winter baby needs to wear clothes.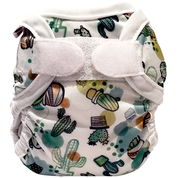 Another option is buying one-size diapers. There are plenty of different systems from different brands on the market in a one-size option. Depending on your baby they may not fit as early as they say they will, so that can be trial and error too.
After all that testing my favourite was Funky Fluff's newborn diaper. It really all comes down to preference though, and I'm glad I tested multiple diapers out. If you're looking for an economical option since baby won't be in these diapers for long, prefolds and flats are a great option. Or you can buy your diapers used to save money. Newborn diapers are used for a short amount of time and typically stay in good condition. I always suggest trying multiple brands and systems when starting with cloth diapers, and it's no different with newborn diapers. What works for one person, might not work for the next.