I can clearly remember the first night Bubs leaked through his diaper at night. Being new to the cloth diapering world, I was confused about why it had happened. After some contemplation I realized he just didn't have enough absorbency in his diapers. So what are some overnight solutions to increase absorbency?
Add More Inserts
The first thing I tried was adding more inserts. I was using bumGenius 4.0 Pocket Diapers. When the large insert wasn't enough, I added the infant insert as well. There are so many great options out there for adding absorbency without adding bulk. Hemp and bamboo boosters absorb lots, don't create a lot of bulk, and won't break the bank to buy a handful for nighttime diapering. Of course you could switch up your inserts altogether. You can try using prefolds, flats, or hemp/bamboo inserts instead of microfibre. Or maybe a mixture of inserts and boosters.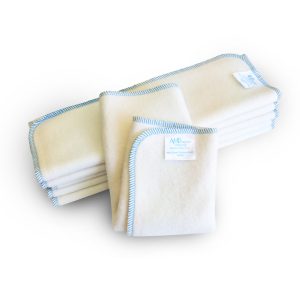 Fitted Diapers
Fitted diapers are a great option for over night. Since the entire diaper is absorbent (instead of just a liner) they are able to hold more liquid. It is also easy to add a booster or liner to increase the absorbency. You'll need a cover over this, whether it's a waterproof wrap or a wool/fleece cover.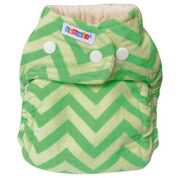 Prefolds/ Flats
Prefolds and flats are great because you can fold them to customize how many layers of absorbency there are and where the most absorbent part will be (for example- little boys may need more in the front). Plus it's easy to add boosters, or a second prefold or flat to your diaper cover to increase absorbency.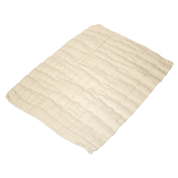 Stay Dry Lining
If you find that you don't have an issue with leaks, but maybe baby wakes up from feeling wet, you can always add a stay-dry liner to the diaper. A simple fleece liner would work.
What's the Best Option for YOU?
There are so many ways to boost absorbency for nighttime. It really does come down to trial and error. For some kids, the diaper you use during the day might be sufficient for night. Heavy wetters will probably do better with a fitted, or prefolds and flats where you can customize the amount of absorbency. Some people choose to not use cloth at night, and that's an option too.
What do you use for overnight with your kids? We loved our Bummis Dimple Diaper  for overnight. Now that Bubs is potty trained and generally wakes up dry, we use our bumGenius 4.0 pockets with both the large and infant inserts- just in case.