Originally I was going to write this blog about packing up for vacation with a two year old. But there is something about travelling that has me way more curious now. How do you keep a toddler (or kids in general) happy on a car trip? Or a plane ride? Or a train?
I was prepared for our summer trips. I had everything packed and was ready to have lots of fun once we were at our destination. But those hours in the car had me a bit nervous. In July, we spent a week at a cottage with my family, and within a few days of coming home we headed out on a 17 hour car ride to Manitoba. This was the first year I couldn't count on Bubs to sleep most of the drive to the cottage. And the 5 hour drive up north was only a sample of what our trip to Manitoba would be like. So what could I do to help the hours pass without a toddler tantrum?
I didn't pack a lot for going to the cottage. Bubs is a pretty easy going guy, so the few things I did pack were enough to keep him happy along with his comfort items: Teddy, blanket and soother. Plus a quick stop for a meal and some play time helped break up the relatively short trip.
My days in between trips were full of laundry, repacking our bags, and packing lots of activities. I looked into investing into a lap desk, and a car organizer. In the end I packed a back-pack full of activities & snacks, and used a small cookie sheet from the Dollar Store as a hard surface to play on.
So what did we pack? We prepped our iPad ahead of time with toddler approved apps, and shows downloaded on Netflix. A trip to the library before we left meant we had new books to read. Which was nice for both Bubs and I (anyone else have all of their kid's story books memorized?). Along with the cookie sheet, I packed paper, stickers, markers and a small container of play dough. These activities worked well on the cookie sheet, though Bubs is still pretty small and it helped to have someone sit beside him. Since we drove with some of my family, there was always someone in the back with him- thanks for helping us out!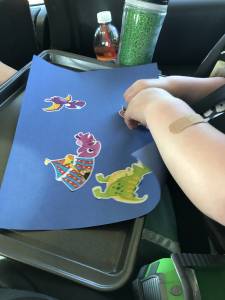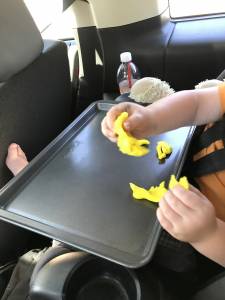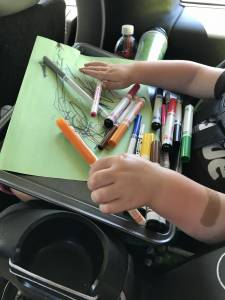 I didn't spend a lot of money since I was able to find most of these things around the house, or at the Dollar Store. One thing I did "splurge" on was a Melissa & Doug Water Wow colouring book. I say splurge, but it was under $10 and reusable!  You fill the pen with water, colour the pictures, and once the pictures dry you can do it again! It says 3+ which make sense since there is a search and find element, but Bubs loved colouring the pages over and over again. You can find them here at the Melissa and Doug website. (This is not a sponsored post. We just really loved this product and I wanted you to know about it too!)
I'm glad I was prepared with snacks and activities. I thought Bubs would do some sleeping in the car, but he barely napped. This time with extra adults in the car someone was always sitting beside Bubs to help him out. Next time I think I'll pack more activities he can do on his own. Maybe magnets for the cookie sheet? Do you have any activities that your kids love to do on long car rides?