I've been running The Diaper Shop out of my home now for about 6 months (give or take a few weeks). Although it has been challenging at times, it has been so rewarding. I love meeting other moms (I have yet to meet a cloth diapering dad through this business) and chatting about their journey. I love hearing your story. Finding out what your reasons are for using cloth, or why you've chosen certain systems and brands.
Sometimes people are thrown off when they stop by The Diaper Shop and they don't see a store front. So I thought it would be fun to give you a bit of a tour of how I run everything from my house.
The biggest challenge I've had so far is finding space for storing products. We don't have much storage in our home to begin with. But we do have a small office in our basement with a closet. So everything is tucked away from little hands. However, I can't possibly have someone come to look at diapers and ask them to step into my closet.
When someone does decide to come visit us and check out our stock, I pull everything out of the closet and bring it upstairs to our dining room where I display it on our table. It isn't the most glamorous, and it's definitely a labour of love (all the steps!). But my hope is that people see the pride I take in what I'm doing.
My office is… wherever. I store all of the products and paperwork in our small office. But when I'm working on updating the website, putting in an order, or writing a blog I tend to bring my laptop and paperwork upstairs to our dining room table. The same one I display the diapers on. Not to get too sappy, but I love the idea that my family eats around that table. We have conversations, and get to know each other better there. My hope is that the same table that brings my family closer, will help to grow relationships between me and you, too.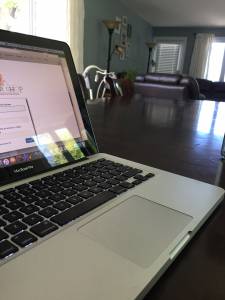 I've said it before many times- my goal with The Diaper Shop is to provide a local shop where you can come and touch the products before you buy. Where you can come to ask questions, and truly understand the different systems, and brands available to you. It can be an overwhelming journey in the beginning, but you're not alone! I'm here to help!
So don't be alarmed when you pull up to a little white house with no signage. Come on in, have a cup of tea with me, and we'll talk about diapers and things.